Please click on the image for details and price.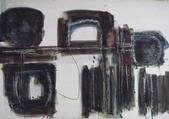 Abstract. 1986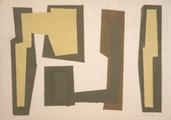 Yellow, Greys & Brown. 1953
Biography
A painter and designer, James Hull studied architectural design before WWII. His early paintings were surrealist, but this changed to a constructivist style using pure colour and geometrical shapes. Encouraged by the critic Herbert Read, Hull had his first solo exhibition in 1949, at the Brook Street Gallery. His reputation as a member of the avant-garde grew when he was included in Gimpel Fils' 'British Abstract Art' exhibition in 1951. From 1952 he began to show in Paris and New York as well as London. In 1956 he took part in the 'This is Tomorrow' exhibition at the Whitechapel Art Gallery. In the late 1950s Hull's pre-war interest in architecture revived and he worked as a design consultant. He moved to Ibiza in 1971 and travelled widely. Returning to London in 1980 in straitened circumstances. In the years before his death, his reputation as a pioneer abstractionist was re-established with shows at the Camden Galleries, the North London Gallery and Whitford & Hughes.