Please click on the image for details and price.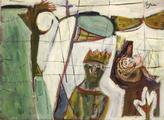 King Arthur & Queen Guinevere. 1960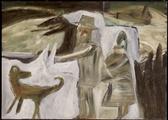 Lovers by a Winter Sea, Cornwall. 1954
Biography
Painter, poet and publisher, Hayman was born in London where he finally lived. He was educated at Malvern College, but lived in New Zealand from 1936-47, starting to paint in Dunedin, in 1938. On returning to England he settled in Cornwall. Although he finally moved from Cornwall permanently he often returned there and it remained an inspiration for his painting. He much admired the work of the primitive artist Alfred Wallis; his own pictures also drew on images of the sea and have an apparently childlike quality; vigorous, vivid and direct.
From 1958-63, Hayman founded and edited the magazine The Painter and Sculptor, influential in it's advocacy of figurative art. In 1988 the Louise Hallett Gallery published Painted Poems by Hayman. He showed widely in group shows and had solo exhibitions in Cornwall, London and abroad. There was a large retrospective show at Camden Arts Centre, which then toured in 1990. There was another at Belgrave Gallery in 2005, launching it's publication Patrick Hayman - Visional Artist, by Mel Gooding. The Tate Gallery and the Arts Council hold his work.