Please click on the image for details and price.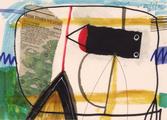 Irish Times Weather. 2006

Lytham Races. c. 2006

Biography
Shiels studied at Heatherley's school of Art, 1954-56, and briefly at Andre Lhote's Academy in Paris 1957. In 1958 he moved to St Ives and remained in Cornwall until 1993. He was a member of the Artist's International Association and the Penwith Society. He has exhibited widely since 1958 including Will's Lane, St Ives; Gordon Hepworth, Exeter; Austin/Desmond, London; Belgrave Gallery and Monpelier-Sandelson, London, as well as many shows abroad. In his second London solo exhibition at the Rawinsky Gallery in 1962, Alan Bowness (later director of the Tate Gallery, London) wrote an assessment of Shiels in the catalogue: "I first noticed Shiels' paintings in a small St Ives gallery some two summers ago. The pictures, mostly small gouaches with landscape subjects, had a distinct quality of their own – they were done by someone with a natural ability to make interesting compositions and a real feeling for paint and colour. Anthony Shiels is certainly a young painter to watch." Since 1993 Shiels has lived in Ireland but has continued to exhibit in various St Ives galleries.