Please click on the image for details and price.

Circus ring with Mannekin. 2018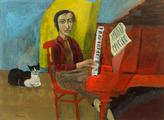 Girl at the Piano. 2010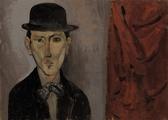 Man in Bowler Hat. 2018
River Landscape with Kilns. 2016

Shooting Gallery.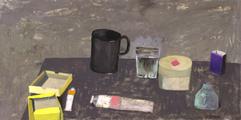 Still Life on a Grey Table. 2010


The Annual Regatta of Toy Battleships. 2014

The Cheap Suit Seller. 2018

The Red Battleship. 2012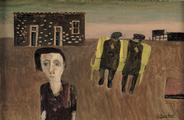 The Yellow Bench. 2017

Young Man With Striped Scarf. 2008

Biography
Simon Quadrat was born in London and obtained a law degree at Bristol University in 1967. He was called to the Bar in 1969, and was a member of the Inner Temple until 1985. Quadrat had always painted and by 2000 resolved to do so full-time. He completed the three-month foundation course at the Slade Summer School. From about 2000 Quadrat has exhibited in one-man shows in London, Bristol, Bath and Cambridge and also in numerous group exhibitions. His solo shows include three with JHW Fine Art, London ( 2003, 2005, 2007) and more recently three with Panter & Hall, London (2009, 2011, 2014). In 2004 Quadrat was elected an Academician of the Royal West of England Academy and subsequently became President of the RWA. He is currently showing 28 paintings in a one-man Exhibition at the RWA, Bristol, running until 12th June 2016.